This year at the Apparel Textile Sourcing Show Canada (ATSC) India was highly represented due to a partnership with TFO Canada. Next year they are expecting to expand their reach even further with approximately 50 exhibitors in partnership with North American Brands Group who will be representing Indian Exhibitors. In addition, it has been a priority of the Canadian government to create a free trade agreement with the largest nation in South Asia. All around, Canada and India are looking to further grow their relationships with each other as they see the mutual opportunity. During the government roundtable event, the Indian Consulate office participated to discuss how Canada is going to be a gateway for Indian exporters for North American market.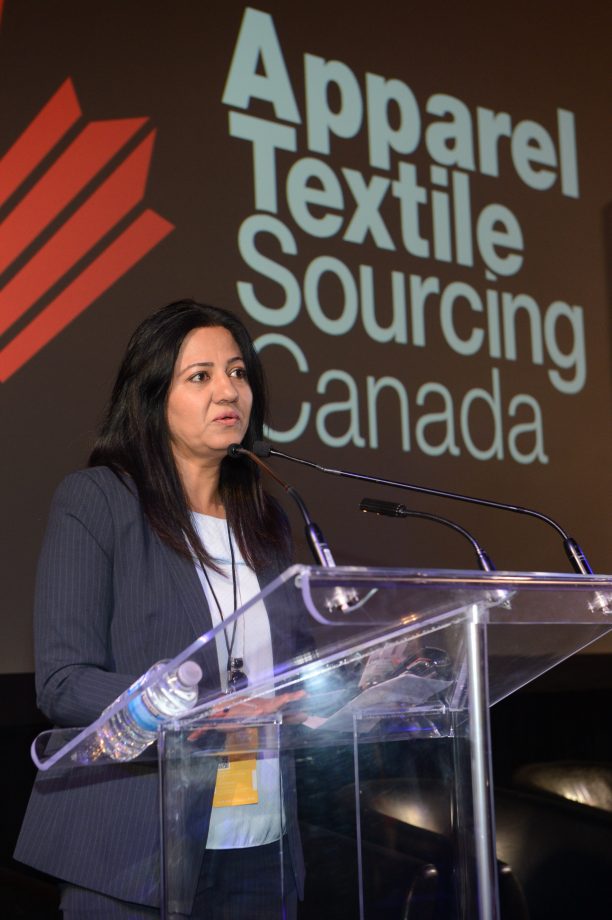 Hon. Sonia Sidhu, of Indian Origin and Member of Parliament in Canada, welcomes Indian exhibitors at ATSC to connect with Canadian buyers representing brands and retailers across the country.
MP Sidhu is also the General-Secretary of the Canada-India Parliamentary Friendship Group (wikipedia).
Canada, being the second largest country in the world, has many opportunities and room for growth both literally and figuratively. There are a variety of industries that are thriving due to its stable economy, lower inflation and tax systems that favor entrepreneurs and businesses. In regards to fashion, the Canadian market has grown and is expected to grow exponentially so there is urgency for India to invest and create partnerships during this growth stage. All things considered, one of the greatest advantages of an Indian-Canadian relationship is the exposure to the United States marketplace as the two are so closely connected not just geographically but economically. As both countries industries are continuing to grow and thrive it will be beneficial to join forces in affiliation with North American Brands Group.